This is an in-depth GeneratePress Review. In this up-to-date review, we are going to learn more about. Discover various reasons that make the GeneratePress Theme popular among website owners, bloggers, developers, etc.
We will explore the benefits of using GeneratePress Premium Theme, highlighting its key features, premium modules, and extensive customization options.
More about…
What is GeneratePress?
Why use GeneratePress Premium Theme?
Key Features
Premium Modules
GeneratePress Speed Test
GeneratePress Tutorials
Lots more
If you are new to GeneratePress and Generateblocks world then we got you covered in everything from GeneratePress to GenerateBlocks Tutorials.
This GeneratePress Review is going to help you see why it is the best choice for you and your clients.
If you are thinking of running a WordPress blog or changing the existing theme in the blog then let's explore more about the GP Theme.
Let's go…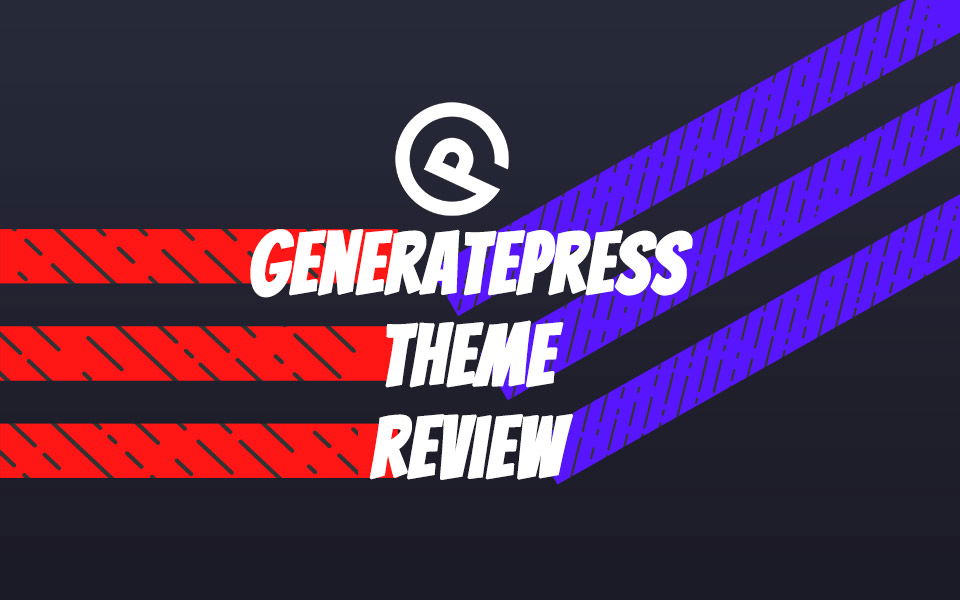 GeneratePress is one of the best and fastest WordPress Themes right now. This theme has a free and premium version.
In this GeneratePress review, we are mainly going to focus on the premium version. Also at some point, we will talk about the GP free version too.
GeneratePress Review – Step-By-Step Guide
In this extensive GeneratePress Review, we will look after every feature that is available while purchasing the theme and how to use the entire theme and build a website.
GeneratePress is a WordPress theme that is designed to be lightweight and fast. It is fully customizable and comes with a variety of options to choose from.
GeneratePress is also SEO-friendly and responsive, making it a great choice for any website.
Overall, GeneratePress is an excellent WordPress theme that is perfect for those looking for a fast, lightweight, and customizable option.
What is GeneratePress?
GeneratePress is a free lightweight multipurpose WordPress theme, you can use the theme to create a blog, create a business site, a portfolio site, build an eCommerce site using the Woocommerce plugin, etc using the premium version.
Features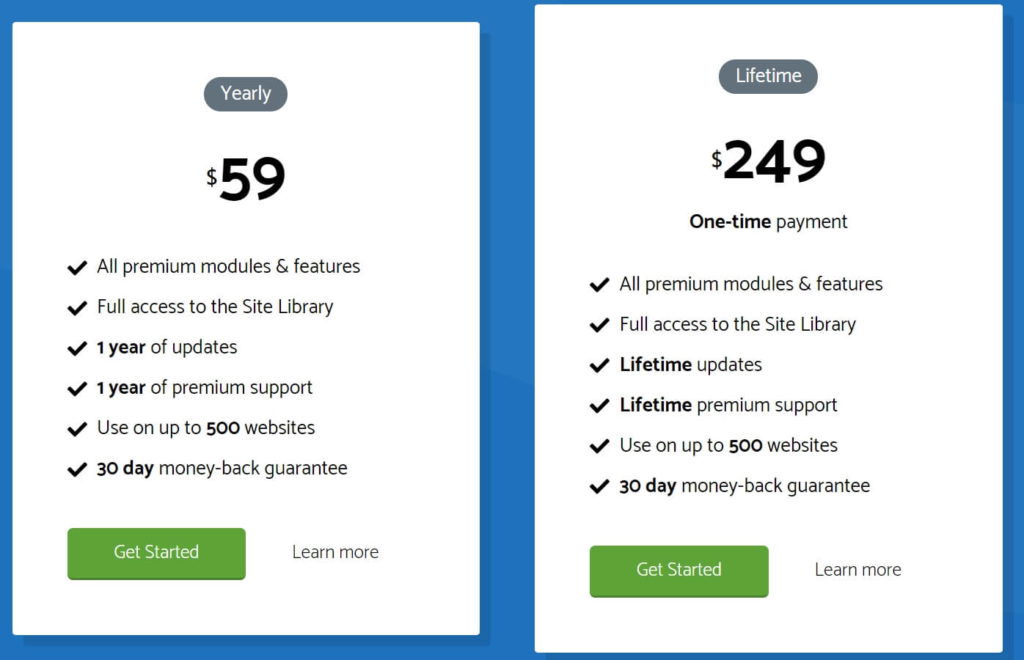 Before starting our GeneratePress review let's know more about GP Theme.
It is a WordPress Theme.
It is a lightweight Multipurpose Theme. (7.5kb page size, 2 HTTP requests)
The new price of the GP theme is $59/year and $249 for a lifetime deal.
30-day money-back guarantee without any questions asked.
1 year of updates and support on the yearly plan and lifetime support/updates for the lifetime deal.
Tom Usborne, Founder, and Lead Developer.
40% off on yearly renewal for old customers and no renewal discount for new customers.
Use the theme on up to 500 websites.
Dedicated Team and Time for Development and Support.
The GP Theme is Gutenberg Ready.
Fully Translated over 40+ languages.
It fully Supports RTL languages.
Full access to premium modules and site library.
GP and WPML are fully compatible.
Free vs Premium
If you are comparing Generatepress free vs premium then you know that the premium version has lots of features.
If you are going to use a free version then you can download the theme without paying any charges from the GeneratePress official site.
For the premium version, you need to pay $59/year and $249 for a lifetime deal with a one-time payment as I have mentioned above. You can customize the theme according to your choice.
There is an over 100+ site library demos that you can import before creating the site and editing it. You can find all the things about GeneratePress Premium Modules in detail below:
GeneratePress Premium Modules
In the premium version of GP Theme, you can find various features. You can explore all modules like Backgrounds, Blog, Colors, Copyright, Disable Elements, Elements, Menu Plus, Secondary Nav, Sections, Site Library, Spacing, and Typography.
To enable all premium modules Appearance > GeneratePress > Modules > Activate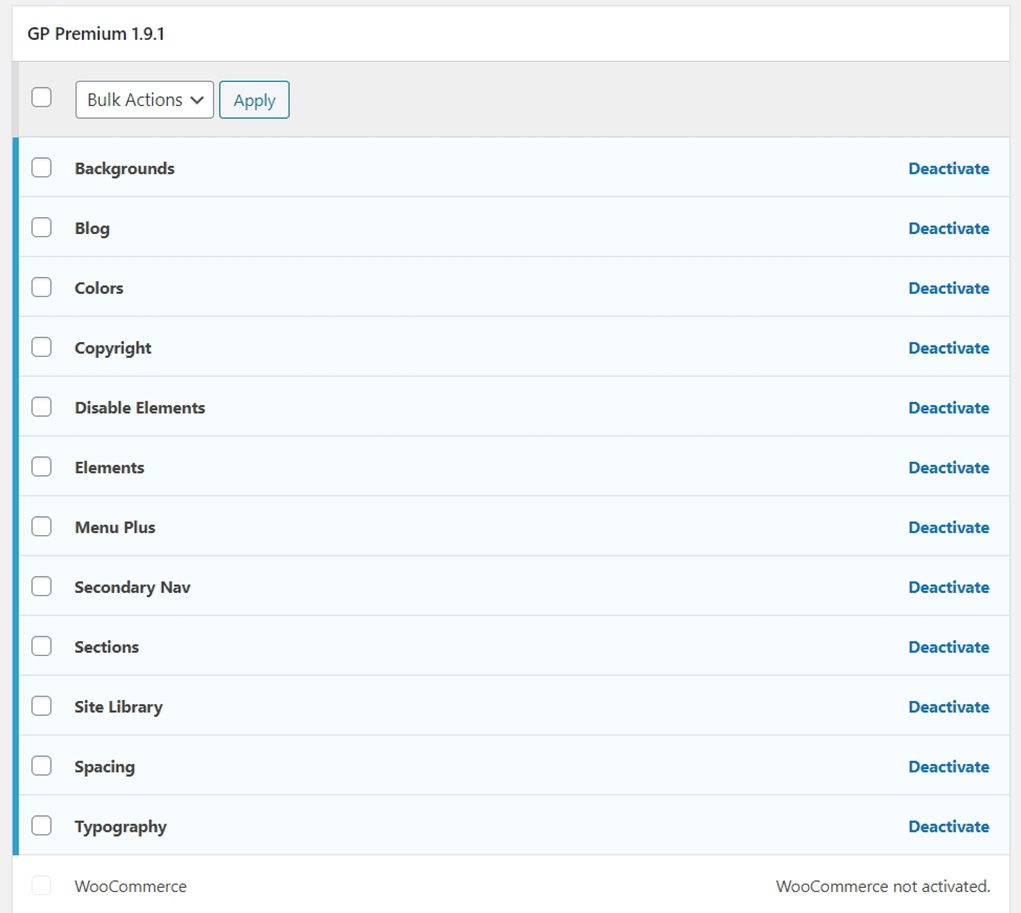 Backgrounds: Backgrounds Module helps to add background images to the site.
Blog: Customize the feature image, columns, and archive using the Blog Module in the Customizer section.
Colors: Play with different colors in the body, header, Navigation, Widgets, and Footer section.
Copyright: Edit or Change the copyright of the website in the footer section.
Disable Elements: Turn off various elements through the different posts/pages of your site.
Elements: The most important modules of GeneratePress Theme – add dynamic heroes and advanced hooks that help to customize the theme.
Menu Plus: The Menu Plus Module helps to make the menu sticky, off-canvas navigation, mobile header, etc.
Secondary Nav: With Secondary navigation, you can add an extra menu with colors, typography, layout, etc.
Sections: Break out the content and make it more beautiful using the Sections Module.
Site Library: Enjoy over 60+ libraries, import the demo site and content, and launch your site quickly.
Spacing: Manage Margin and Padding using Spacing Modules, and control the size in GeneratePress.
Typography: Select over 100+ different Google fonts to style your site.
Woocommerce: Install the woocommerce plugin and Activate the WC module to style products and checkout pages on your e-commerce website.
Background
Background Module helps to add background images to the site. The eligible section has background options so you can import images and set sizes, positions, etc.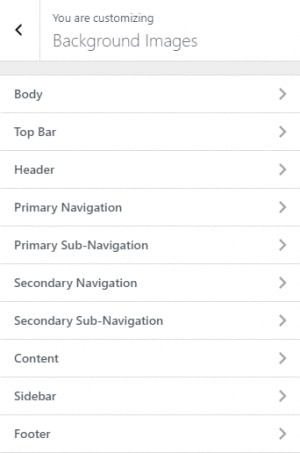 Blog
Customize the feature image, columns, and archive using the Blog Module in the Customizer. Select and control options like post date, author, categories, tags, featured images, etc. in the blog module.

Colors
Play with different colors in the body, header, Navigation, Widgets, and Footer section. There are over 60+ color options available in the Customizer.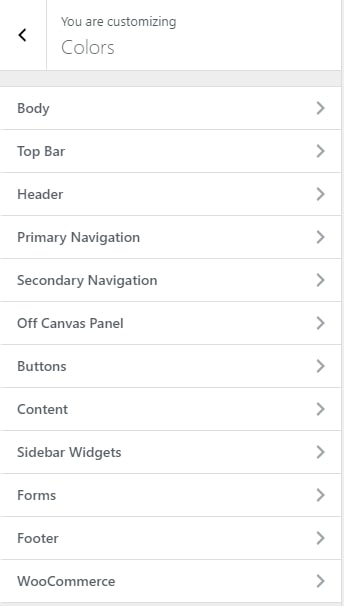 You can color every part of the theme including the body, top bar, header, primary navigation, button, content, forms, footer, widgets, etc.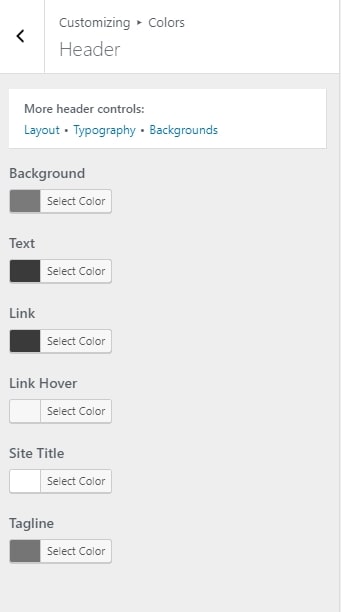 Copyright
The copyright module helps to edit or change the copyright of the website in the footer section.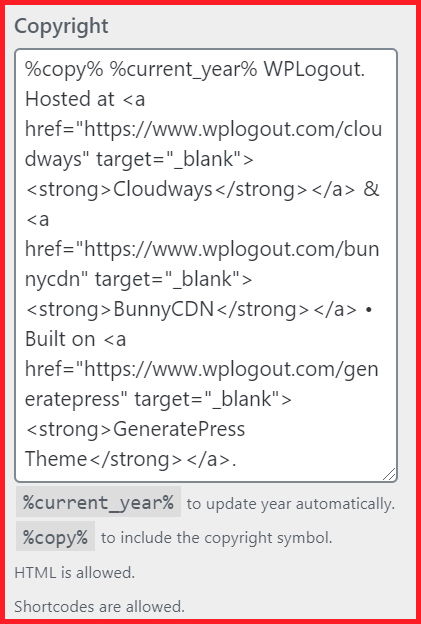 Disable Elements
Turn off various elements through the different posts/pages of your site. You can find the disable elements section at the post/page level.

Elements
Element is the most important module of GeneratePress Theme that helps to add dynamic heroes, advanced hooks, Layout options, etc.
Most of the advanced features can be implemented by using the Elements Module. Users and Developers use this module most of the time to tweak and achieve advanced customization.
To activate the Elements modules. Go to
Appearance > GeneratePress > Elements > Activate
Elements Modules have three parts: Header, Hook, and Layout.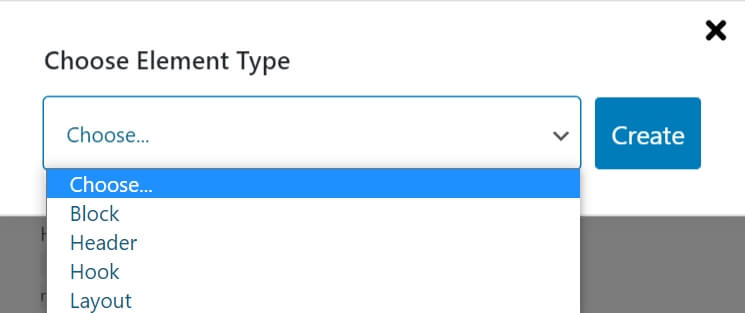 Header: The header Element can be used to build the header on your site. On this GP Element, you can add a background image, text, etc, and style it. i.e. HTML and CSS are used in this Element to build Page Hero.
Hook: The most powerful feature in GeneratePress Theme is a Hook Element. It helps to insert content into the available hook on your website. Users don't have to create a Child Theme anymore. This element helps to achieve advanced customization in the blog.
Layout: This Element helps to control the Layout of specific posts, pages, categories, Archives, and even the entire site. It helps to style your site in an advanced form.
Block: Block is the most advanced Element module in GeneratePress Theme. Block Element helps in advanced customization using Block Editor instead of using HTML. You can combine Block with GenerateBlocks and create a separate site footer, site header, right sidebar, and left sidebar.
When you use Element, you need to work with Display Rules i.e. you need to set the element to be displayed in different locations. Locations can be anywhere between entire sites, pages, posts, categories, tags, etc.
Menu Plus
Menu Plus Module helps to make the menu sticky, off-canvas navigation, mobile header, etc. Menu plus options can be found on the Customize > Layout where you need to check out respective sections.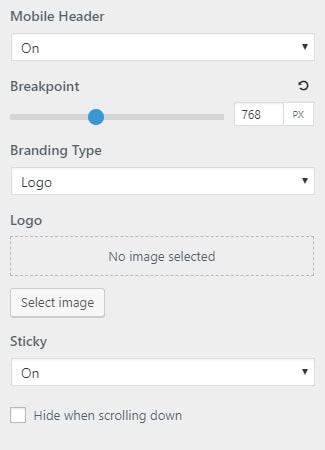 With secondary navigation, you can add an extra menu with colors, typography, layout, etc. You need to activate Secondary Navigation in GeneratePress.
Appearance > GeneratePress > Secondary Nav > Activate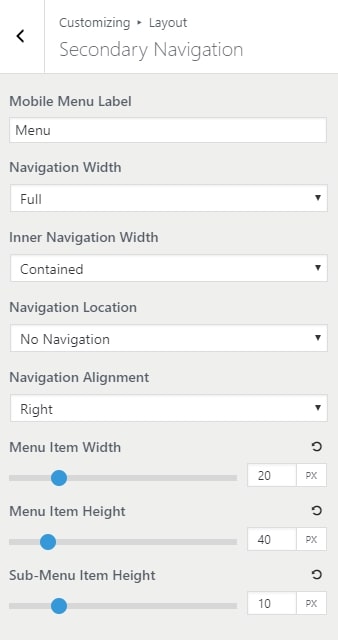 Sections
Note: In Gutenberg (Block Editor), the sections module cannot be used.
Sections are the mini page builder available only in GeneratePress Premium Add-ons. If you are using an advanced Page builder like Elementor, Beaver Builder, etc. then you can avoid using sections.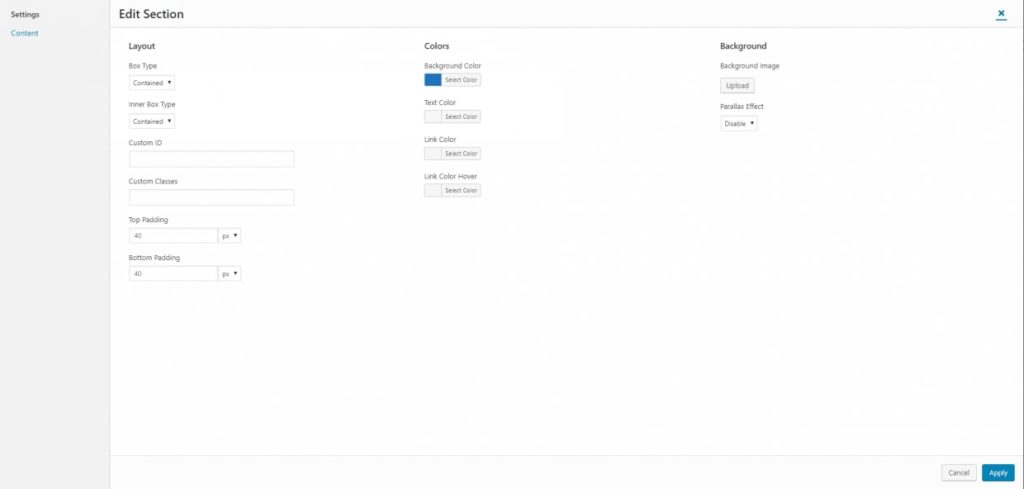 If you are using Classic Editor then you can use section modules in your post/page with ease. It is easier to build a page with available settings in sections.
With the latest WordPress update, Sections can't be used with Gutenberg Editor. so GeneratePress is building GenerateBlocks – a lightweight WordPress block that can accomplish nearly anything. It is compatible with Gutenberg Editor. Read the latest GenerateBlocks Review.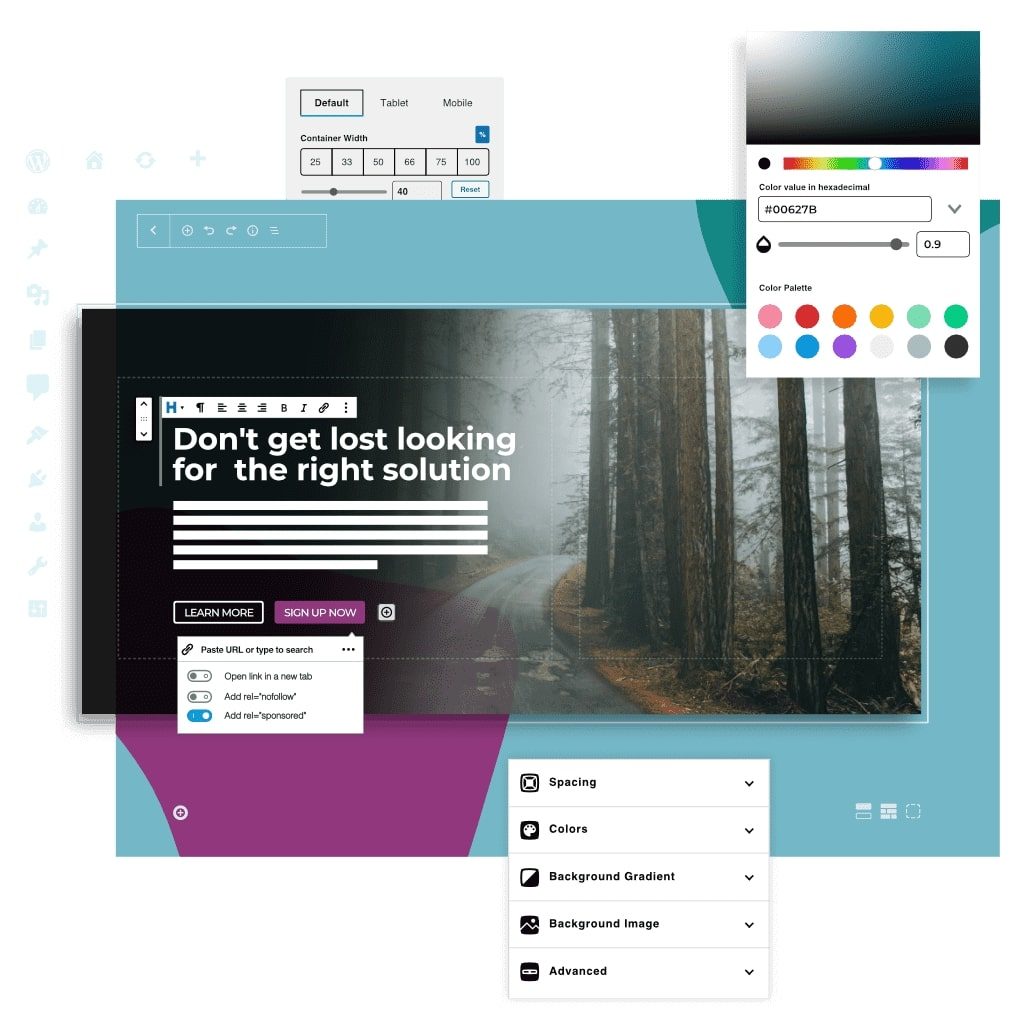 Site Library
After purchasing the premium version, you will get full access to the site library. You can import the whole library and make your site live quickly.
These site libraries can be imported with GeneratePress options and demo content. If you have content then you can skip the demo content.
GeneratePress sites use the default WordPress Editor, Elementor free or Pro version, and Beaver Builder to create some of the demo sites and content.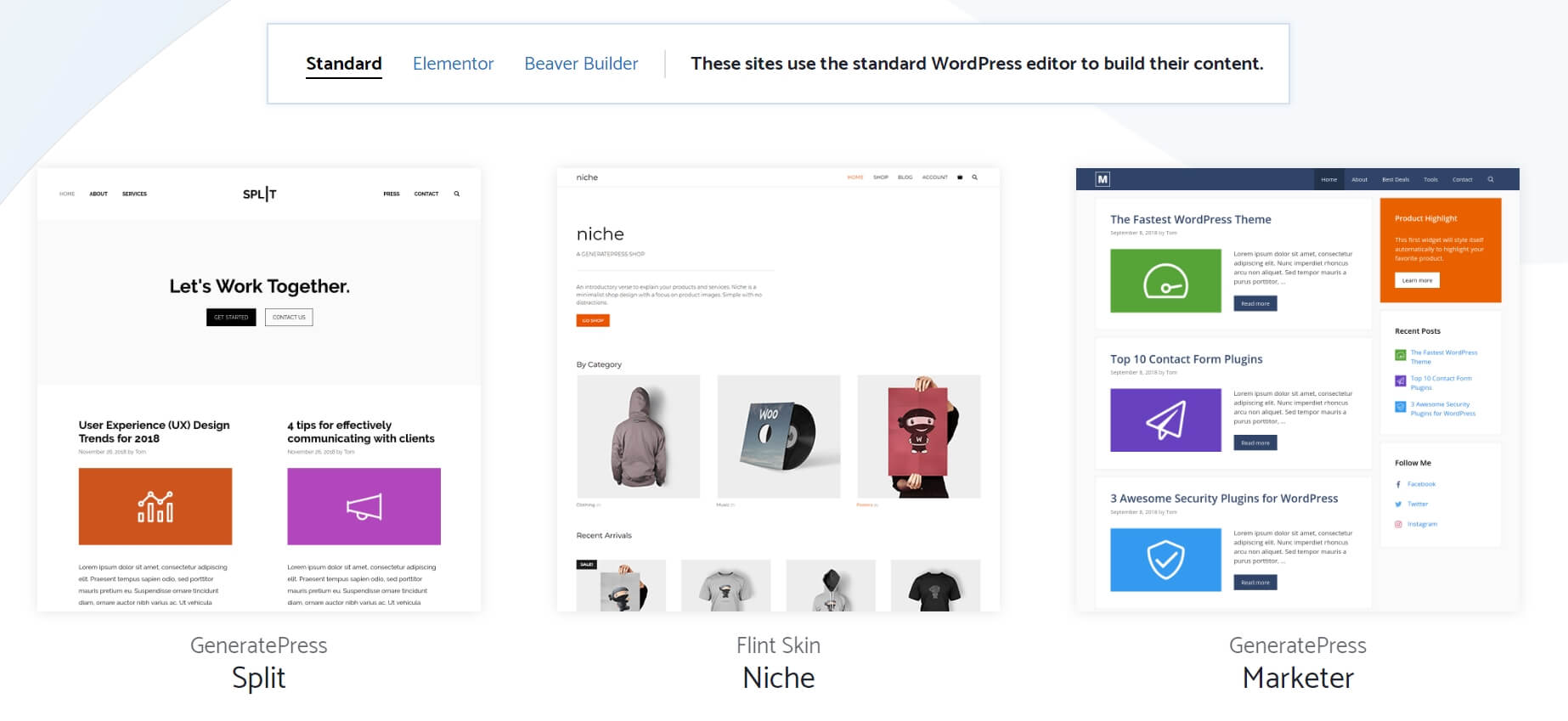 Importing the site library is easy and can be imported quickly. To import a demo site you need to Activate the Site Library in Premium Modules.
Appearance > GeneratePress > Site Library > Activate
Now, you will get full access to the site library, Appearance > GeneratePress > Site Library, and Import the desired site and content on your site.
There are over 46+ demo sites in the site library section and it is increasing steadily with a nice layout theme.
Spacing
The spacing add-ons help to manage margin & padding and control the size in GeneratePress.
You can use this module in the header, menu item, container separate, sidebar width, content padding, width padding, footer widget & footer padding, secondary menu, etc.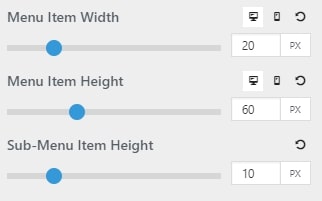 Typography
Choosing fonts is crucial when you are creating a site. In the typography module, you can select over 70 different System fonts and Google fonts to style your site.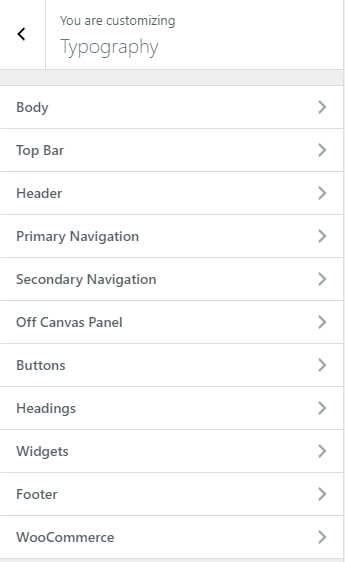 You can customize the fonts of each area in the GP theme. You can change font family, font variants, Font weight, font size, etc in the header, footer, sidebar, body, menu, etc.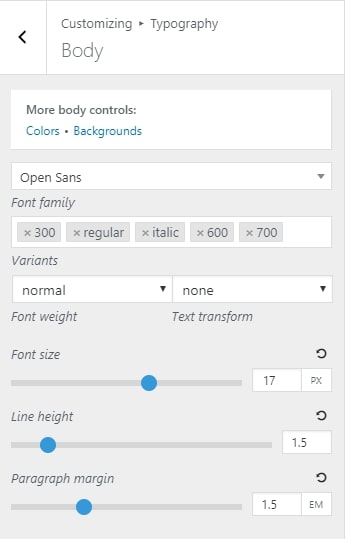 Also, to optimize and speed up your site, you can host the Google fonts locally in WordPress.
Woocommerce
Woocommerce is a plugin for WordPress to create an e-commerce site. It is a free and open-source plugin.
so before using this module, you need to install and activate the Woocommerce plugin on your website.

Woocommerce modules help to customize your product pages, checkout pages, etc. using colors, layout, and typography options on your site.
Support
The main thing to look at before purchasing any theme is to look after their support. GeneratePress Theme has two versions, free and premium.
Free GP Theme has 1300+ 5-star ratings on wordpress.org and the support is quite impressive.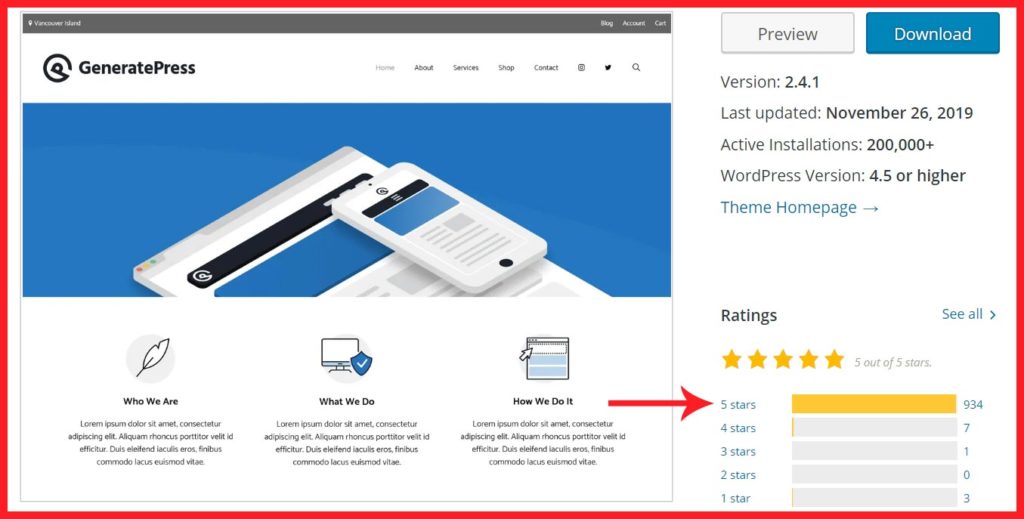 GeneratePress premium support is best and I rate the support as 5/5 stars for the eagerness to help and solve the issue.
Leo, David, and Tom himself are willing to solve the queries raised by the clients.
I, myself have asked around 20+ questions during the time of writing this review and almost all my problems were solved.
This is a screenshot of the few topics that I have asked about in the support forum.
Documentation
As always, documentation is a crucial part of every project, and GeneratePress Theme has the best documentation part.
You can find an in-depth guide about every module, customization, Hooks, Filters, etc.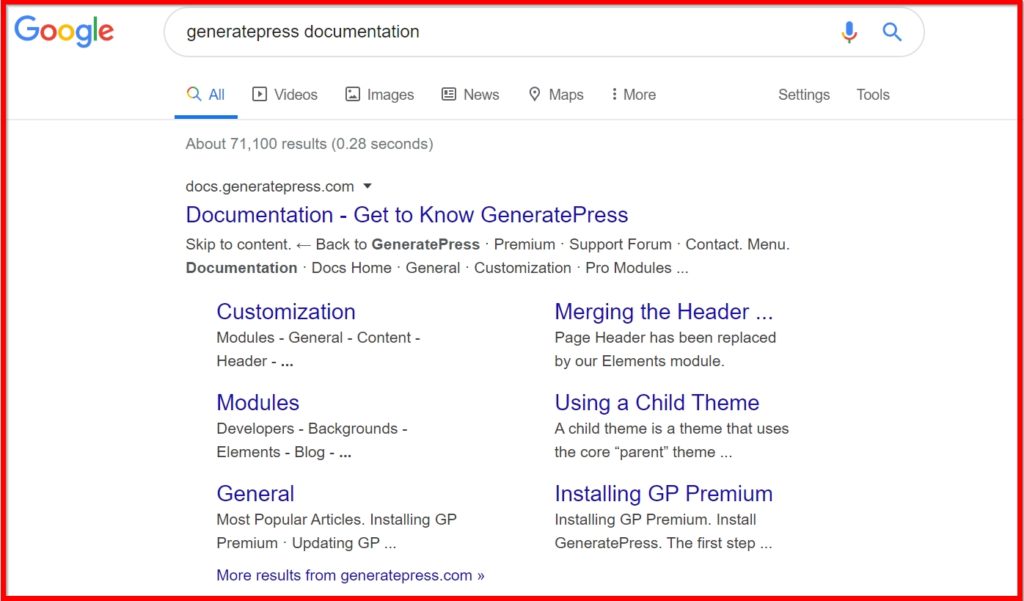 You can access GeneratePress Theme Documentation at docs.generatepress.com.
The documentation is divided into four parts, it is easier to navigate and search any tutorial within the knowledge base.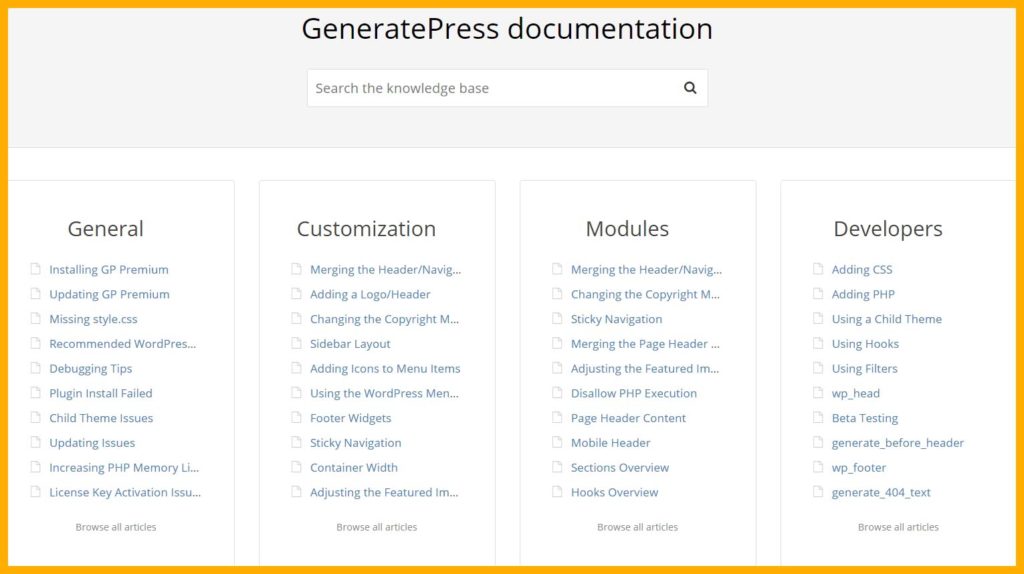 Let's say you want to know about Elements in GeneratePress then you can search it and find extensive documentation.
They have properly explained everything in their documentation.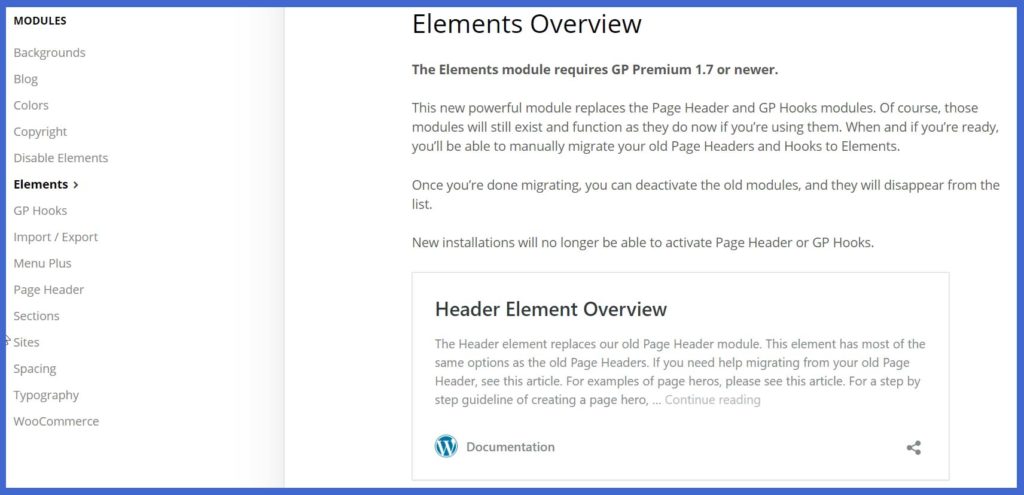 Moreover, you can search for every related problem via Google Search, the official GP Theme documentation ranks higher in SERPs. so, it is easier to find everything on Google too.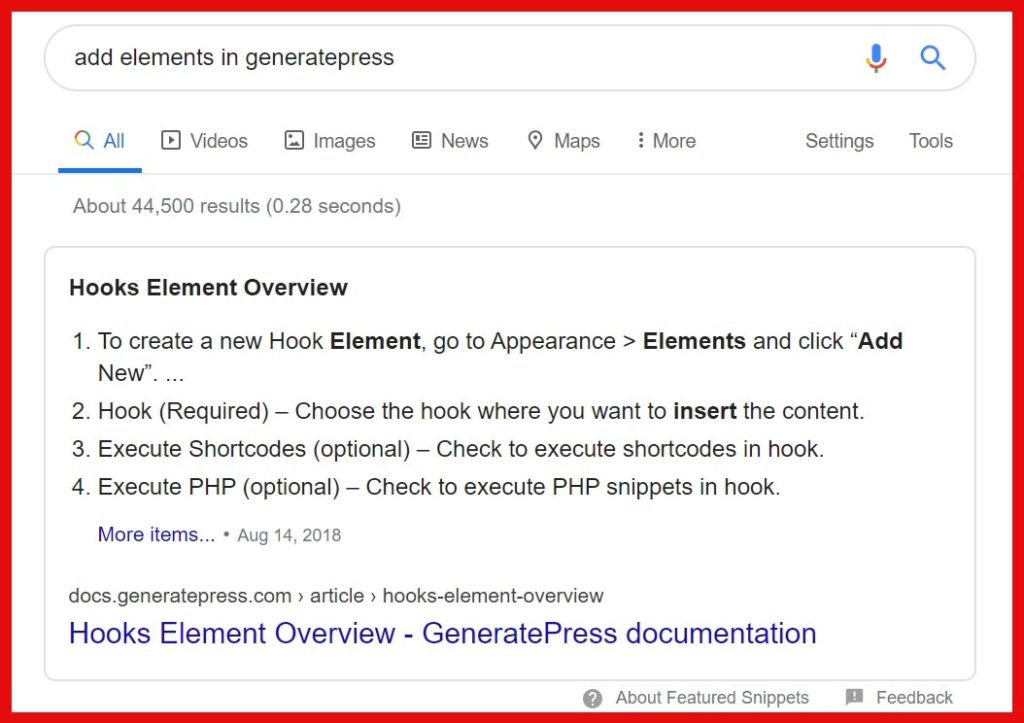 How to install GeneratePress Premium WordPress Theme?
To activate GeneratePress Premium Theme, first, you need to install a free version of GP Theme. You can install it within WordPress.

Visit Appearance > Themes > Add New
Search GeneratePress
Install and Activate the Theme.
After activating the free theme, you need to download the GP premium plugin from the official site.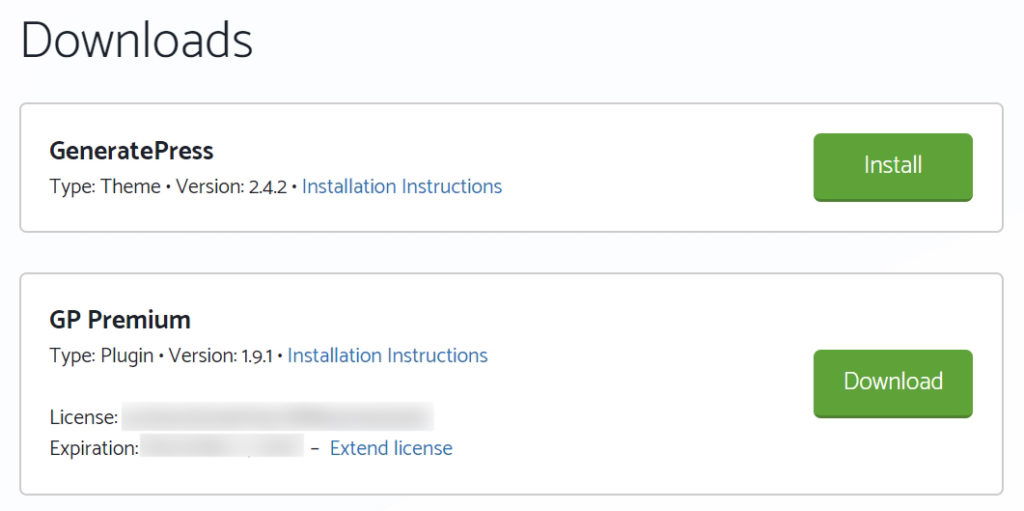 Visit the GeneratePress site.
Click on Log in Menu.
Login using your Username and Password.
You will be redirected to Download Section.
Download GP Premium.
And then go to your WordPress Dashboard.
Go to Plugins > Add New.
Click on Upload Plugin.
Browse GP Premium.
Install and Activate it.
Go to Appearance > GeneratePress.
Enter the License Key.
Activate the necessary GeneratePress Modules.
Now enjoy the premium version.
Page Speed – Is GeneratePress the Fastest Theme?
Google states that Speed is a ranking factor so, for both desktop and mobile versions your site needs to be very fast.
Most user visits sites from mobile using 2G, 3G, 4G or even using WiFi, so it is crucial to load your site faster on the mobile version.
Search Engines like Google look after 200+ ranking factors and page speed is one of them. so the speed is one factor that helps to outrank your competitor in SERPs.
Therefore, the GeneratePress team is behind you to help better speed and accessibility.
Before starting GeneratePress Speed Test, you need to use some of the speed-optimizing plugins and tweak settings to optimize your website.
Here, Tom has created a speedtest.generatepress.com subdomain to test GeneratePress Theme where Tom suggests using Autoptimize free plugin to optimize.
Tom calls GeneratePress 3.0 – A New Era update as it is one of the most important updates in the history of GeneratePress.
With GeneratePress 3.0, Tom has made the whole theme, even more, lightweight than before saving 55% by combining 3 CSS to one main.min.css reducing 3 HTTP requests to one, and lots of changes in the codes.
The Core Web Vitals is crucial factors to look after as Google considers speed as a ranking signal. Google's Core Web Vitals mainly looks after the Largest Contentful Paint, First Input Delay, and Cumulative Layout Shift. We can get huge benefits with GP 3.0, so update to the latest version wisely.
Moreover, Tom decided to test the 3.0 version with Google Lighthouse, and here is the result.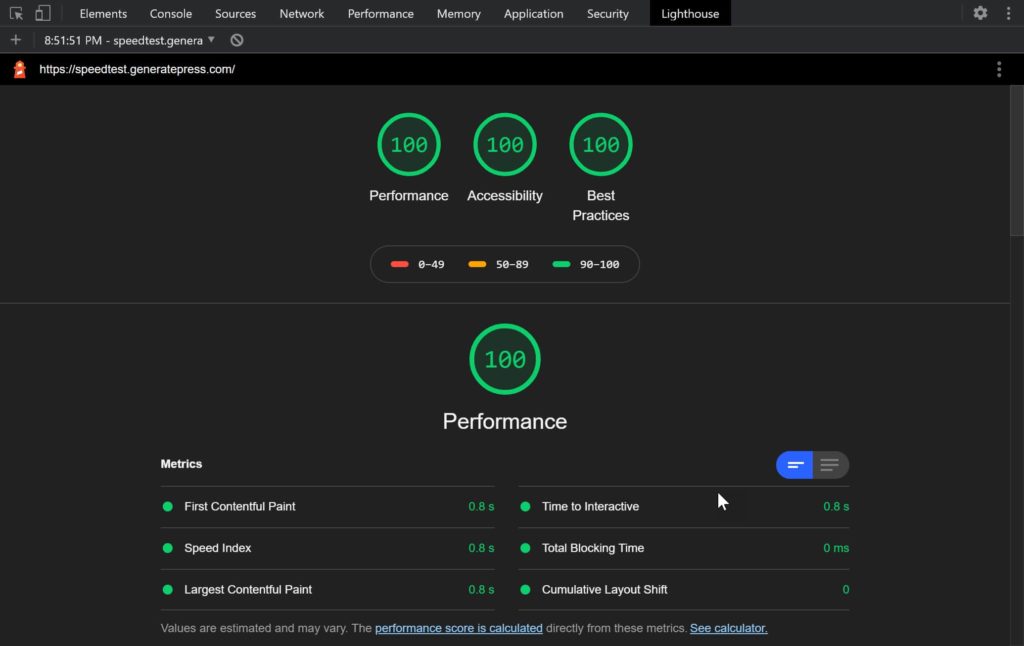 Personally, I am using Cloudways hosting, WP Rocket plugin, and BunnyCDN on this website, and after optimizing, I manage to get a 100/100 score in GTMetrix.

I have tested my website even in Google PageSpeed Insights, and the result is amazing.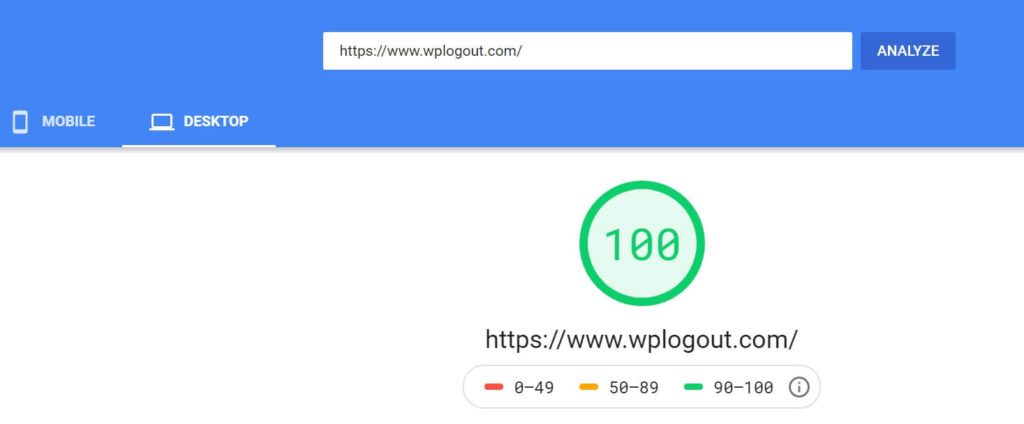 I manage to get a 100/100 score for the Desktop and 97/100 for Mobile Devices Version. so, by these tests, I can say GeneratePress is one of the fastest themes available in the market.
GeneratePress Tutorial
If you are searching for generatepress premium tutorials then you can find plenty of them on the internet. You can also find lots of tutorials over here on my blog too. Visit the GeneratePress Tutorials section to find out more.
You can try to disable Google fonts in GeneratePress or learn to add google analytics in GeneratePress Theme.
Moreover, you can try to show Related Posts on your site, display the last updated date in GP sites, and also create the last widget sticky or remove powered by GeneratePress.
If you need code to enhance the functionality of the GeneratePress Theme you can use the GeneratePress Custom Code Snippets on your website.
If you are using the free GeneratePress Theme then you can ask them in the WordPress forum support section. For premium users, you can get direct support from the official GP site.
GeneratePress Lifetime Deal
GeneratePress Lifetime: As compared to Astrawp WordPress Theme, GeneratePress also offers a lifetime deal. You can use GP Premium LifeTime Theme for up to 500 websites with lifetime premium Support
Moreover, AstraWP has two kinds of licenses: one is an annual renewal and the other is a lifetime deal. Astra Pro, Mini Agency Bundle, and Agency Bundle are three kinds of pricing modules available in Astra Theme.
GeneratePress Premium 2.0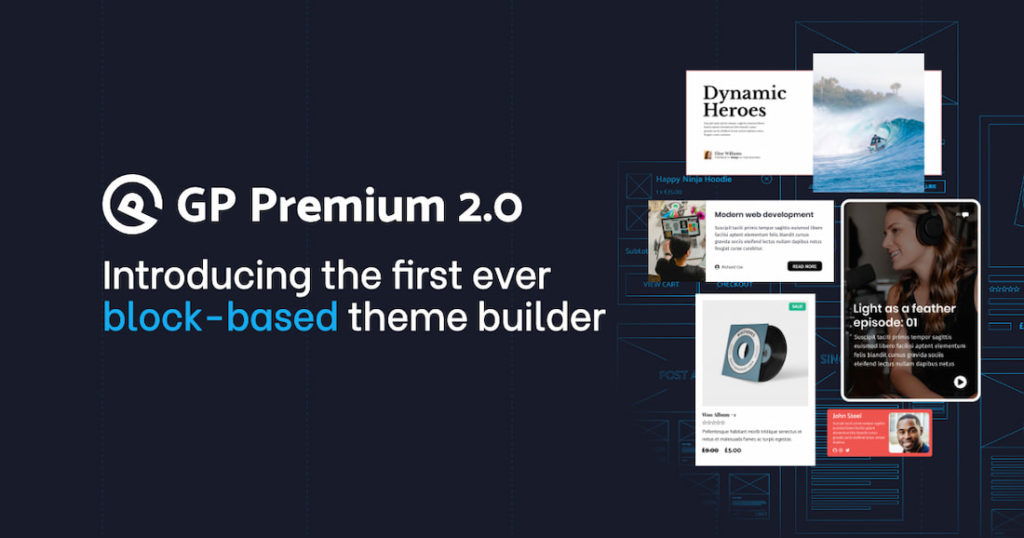 Tom and his team have upgraded the GeneratePress Premium theme to 2.0 with the first-ever block-based theme and they have named it GP Theme Builder.
You can use GeneratePress Premium with the GenerateBlocks plugin to create stunning designs. Also, check out the latest GenerateBlocks tutorials blog posts too.
In this major haul update, you can use dynamic data within a block element, moreover, you can design content areas using content templates, and design page hero sections using header elements with complete control that is not limited to the theme customizer.
With this update, GP Theme is ditching jQuery i.e. the theme is using Vanilla JavaScript to boost the performance. The jQuery part is only included in sticky navigation and WooCommerce.
Also, as stated in the changelog the sections module is now deprecated i.e. it is easier to build sections with the block editor and GenerateBlocks.
Moreover, you can check the latest changelog on the GeneratePress site to find more about updates.
List of Plugins for GeneratePress WordPress Theme
I always try to avoid the excessive use of plugins in my blog. But there are some of the best plugins that you can't generally avoid in WordPress.
You need plugins to add extra features and functionality to your blog.
Here, I am going to share some of the important plugins I have been using on my GeneratePress site.
Competitors & Alternatives
Even though GeneratePress is the fastest and most lightweight WordPress Theme, there are some competitor themes in the market that matches the level of GeneratePress.
Before buying any theme, Users like to compare the products. Here, Users often search GeneratePress vs Astra vs OceanWP and compare these awesome themes. Let's compare Generatepress vs Astra vs OceanWP.
Astra
Astra is yet another fastest and most lightweight WordPress theme. Like GeneratePress Theme, you can download Astra Theme for free and for premium modules you need to purchase.
The Astro Pro starts from $59. Moreover, you can purchase a mini agency bundle to an agency bundle that comes with a yearly renewal or with a lifetime license.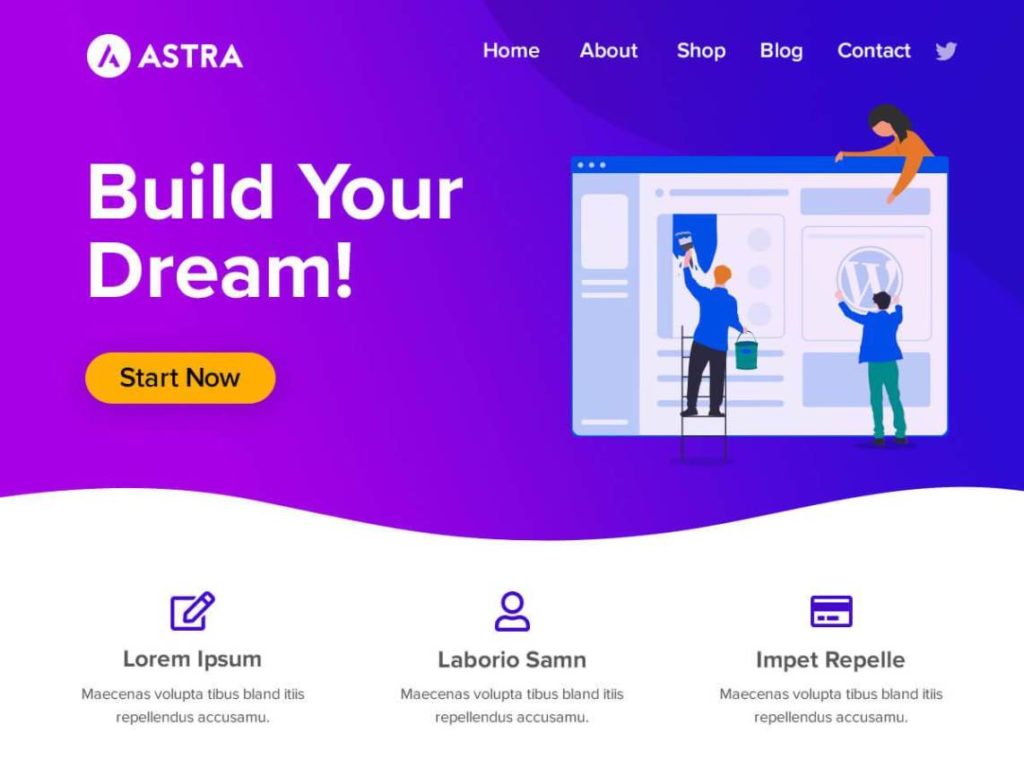 Astra WP is compatible with page builders like Elementor, Beaver Builder, Brizy, and the latest block editor, Gutenberg. For white-level service, Astra Theme is the best in the market.
OceanWP
Like Astra WP and GeneratePress, you can download the OceanWP theme for free, and later on, you can purchase the premium bundle.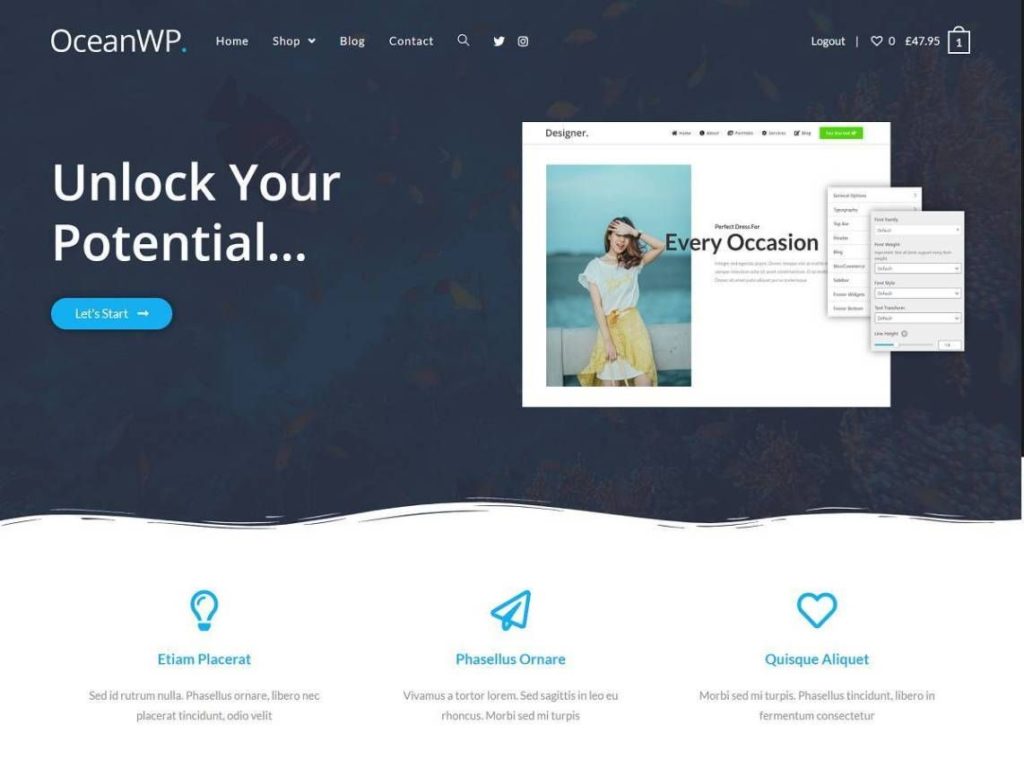 Like other themes, OceanWP is compatible with most page builders. There are 20+ demos available to start your site with including blogs, one-page, and business sites. OceanWP is a Multipurpose SEO-friendly and fast-loading WordPress theme available in the market.
FAQs
What is a GeneratePress Theme?
GeneratePress is a multipurpose lightweight free WordPress Theme developed by Tom Usborne, mainly focusing the performance, security, and usability.
Is GeneratePress free?
Yes, GeneratePress is a free WordPress theme and you can download or install it from the wordpress.org directory or an official website. GeneratePress has a premium version too which costs you $59 on a yearly plan and $249 for a lifetime with a one-time fee.
What is the best Page Builder for GeneratePress?
GenerateBlocks is the best page builder for GeneratePress. GenerateBlocks is developed by the same developer, Tom Usborne, the person behind GeneratePress WordPress Theme.
Does GeneratePress Theme work best with Elementor?
Elementor and GeneratePress work perfectly in WordPress. Both the free and premium version works flawlessly but the GP Pro version has lots of features.
Is Beaver Builder good to integrate with GeneratePress Theme?
Yes, you can integrate Beaver Builder with GeneratePress Theme. You can find a few themes in the GeneratePress Site Library that are built using Beaver Builder.
Can you use GeneratePress Premium on Unlimited Sites?
No, the GeneratePress premium theme can be used only up to 500 sites according to new rules, you can even use GP Theme to build client sites.
Do I need to renew the GeneratePress License?
No, renewing the GeneratePress theme is not compulsory but if you can want to get the latest update then you can renew the theme at $59/year.
Wrapping Up
At last, I want to thank Tom Usborne and his Team for building GeneratePress Theme, one of the best and fastest WordPress Themes right now. I have been using GP Premium Theme with various Modules activated in this blog.
I hope you loved/liked our extensive GeneratePress Review. Even though you can find the free version of the GeneratePress Theme, I would suggest trying the GeneratePress Premium version.
GP Premium provides full access to the site library and support including a 30-day money-back guarantee with a 40% discount on yearly renewal.
Also, you can find the latest GeneratePress Tutorial which I have personally tried on my blog. I hope GP WordPress Theme tutorials from my blog will help to add extra functionality and customize your theme.
Moreover, If you have any questions then please free to comment below.
Love this Post. PIN Now! Read it later.