This is a tutorial to display featured posts in GeneratePress sidebar.
In this tutorial, you'll learn the following stuff.
Show selected posts in GeneratePress Theme's sidebar
Use of WP Show Posts Plugin.
WordPress Tags.
To use widgets in GeneratePress
And many more…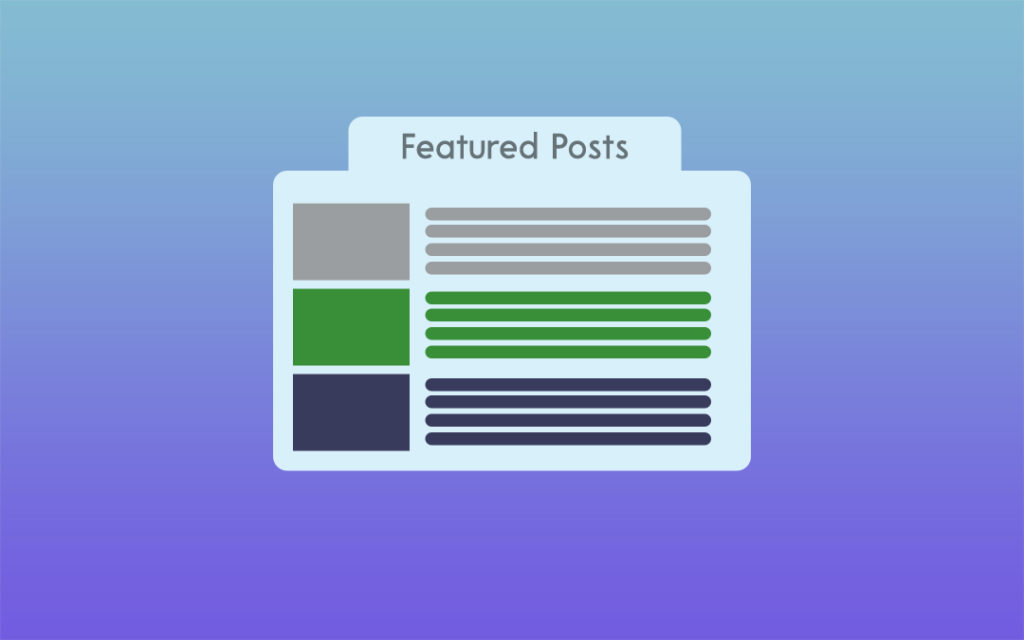 I am using GeneratePress Premium Theme to implement this tutorial in my blog and the free version of GP Theme works too.
Why display featured posts in Sidebar?
Most bloggers use the sidebar to show related posts and popular posts with images or without images. The post in the sidebar helps to decrease the bounce rate, and increase the dwell time as visitors click and manage to read the post.
Bloggers can promote the affiliate products or articles using the featured posts in the sidebar or even in the footer. so, there are many benefits of using the sidebar to promote articles.
Also Read: Create Last Widget Sticky in GeneratePress Theme
Display Featured Posts in GeneratePress Sidebar
Here we are going to use WP Show Posts plugin to show featured posts the plugin is developed by Tom Usborne, a person behind GeneratePress Theme.
The final results: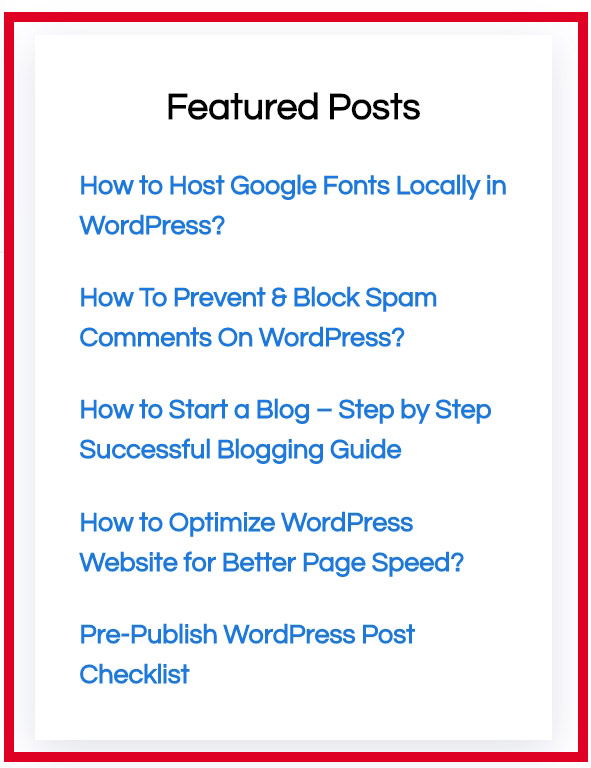 So let's get started
Adding Tags in the Post
I am using featured tags in 5-6 posts on my blog. You can see an example in the screenshot below.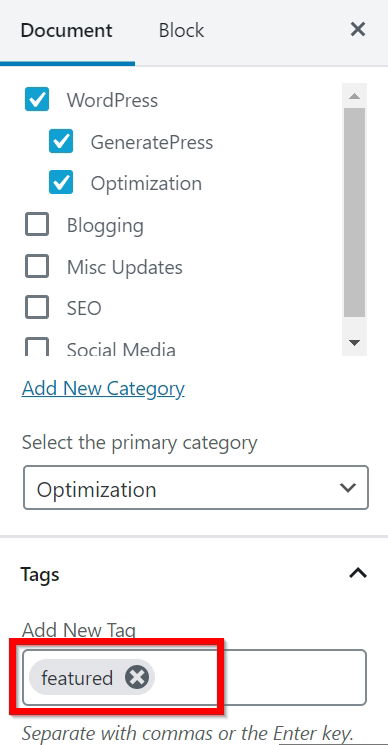 Go to the posts which you want to feature in the sidebar.
Edit the posts and add featured tags.
Update the Posts.
Configuring WP Show Posts Plugin
I am using WP Show Posts plugin to display related posts, show recent posts, etc in my WPLogout blog. This plugin comes in handy to display posts anywhere in WordPress using Shortcode.
So, let's configure to display featured posts in GeneratePress Theme's sidebar.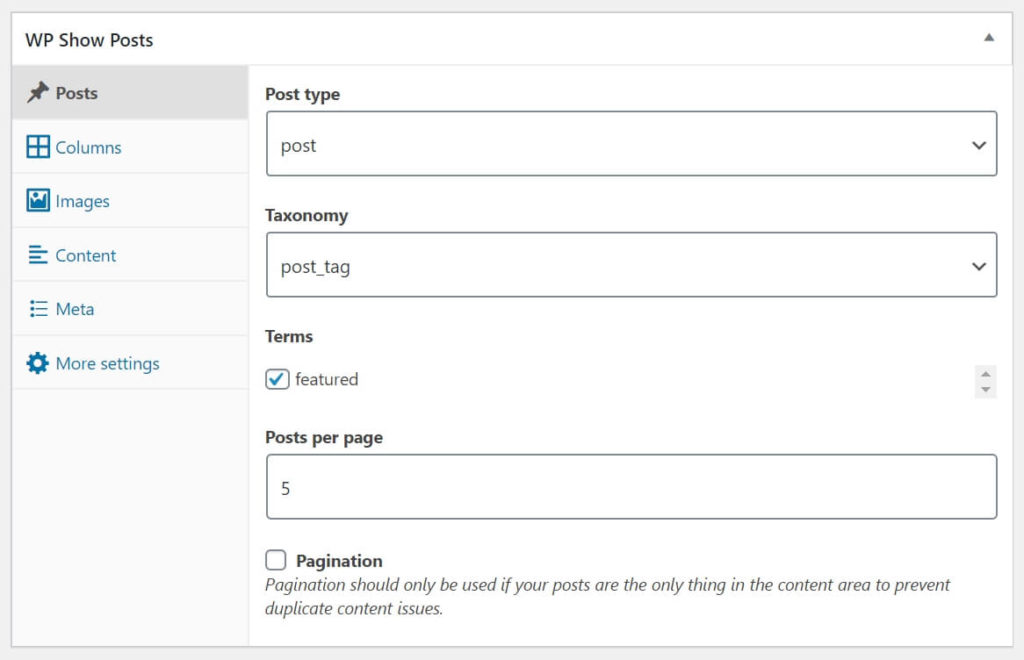 Go to WP Show Posts > Add New.
Name the new list as Featured Posts.
Go to Posts Section > Post type as a post. Taxonomy as a post_tag. Select the featured tag we created earlier. Post per page to 5 or 6.
Go to Columns section > Columns as 1. Columns gutter as default.
Leave the Images section blank (Uncheck Everything).
Next, go to Content section > Content type as None. Check Include title. Title Elements as p. Leave all others as default.
Go to Meta section> Uncheck all settings.
Go to More settings > Leave it as default.
Hit Publish button.
Adding Widget
The next step is to add the WP Show Posts widget in GeneratePress Theme. Here I am using the right sidebar to show featured posts so you can place this widget in the sidebar or anywhere available in the theme.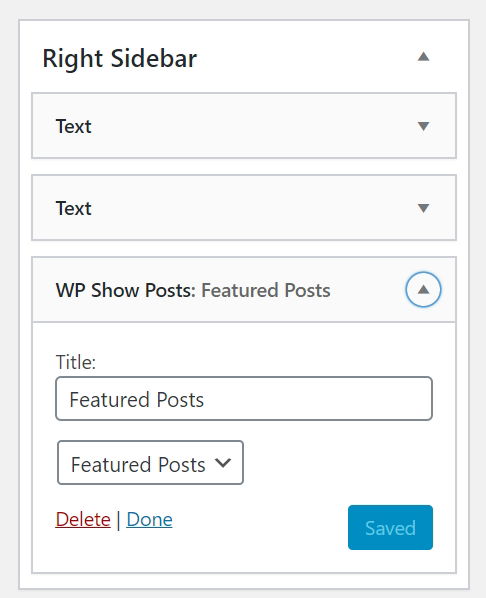 Go to Appearance > Widgets
Add WP Show Posts in the right sidebar.
Give a Title to the Widget.
Select Featured Posts from the dropdown.
Save it.
Now after completing the above steps you can check your sidebar and now you will be able to see the featured posts.
Try: Show Related Posts in GeneratePress Theme
Wrapping Up
I think this tutorial to display Featured Posts in GeneratePress Sidebar helps you to promote the selected posts from your blog.
I have been using this trick to show some of my best blog posts, you can check the sidebar and if you have further ideas to implement the same kinds of things then please feel free to share in the comment box.
At last check out the review of GeneratePress Theme to know more about it.