If you are reading this guide then you are looking for the right GeneratePress Templates for Affiliate Marketing, right? If yes then here you are going to find some useful guides with extra tips and congratulation on using one of the best WordPress Themes.
Indeed, there are many templates in the site library and you might get confused about which one to use.
In this guide, we are going to learn more about
What are GeneratePress Templates?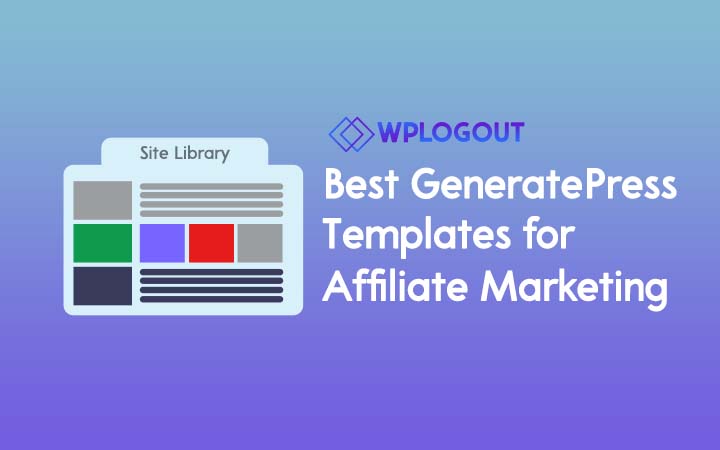 GeneratePress is a WordPress theme that provides a wide selection of templates. These templates are easy to customize and come with great features.
GeneratePress Templates are pre-built sites that are ready to import with one-click options.
Before getting your hands on templates, you need to have a license for GeneratePress Premium Theme. i.e. in the free version, you won't find any premium features like Elements, and Site Library Modules.
After getting GP Premium, you can only access the site library. When you open up the GeneratePress theme, you get a list of options to choose from different demo templates.
You can select any template that you want and then start customizing it to suit your needs.
How to Use GeneratePress Site Library?
First view pre-built sites in the site library. For this, you either visit the GP Official website and view it or you can either do it by installing a premium theme.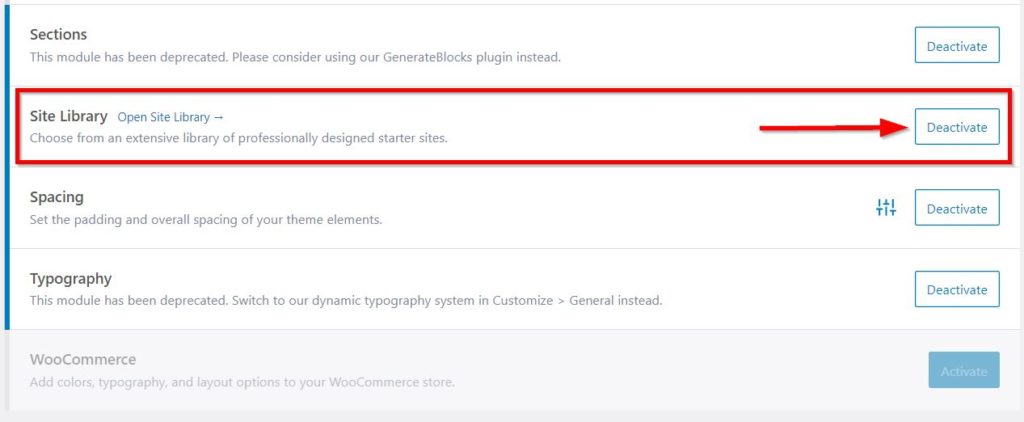 First, install GeneratePress Premium Module.
Go to Appearance > GeneratePress.
Activate the Site Library Module.
Now, open the Site Library.
Select the pre-built demo sites available.
Click on Get Started.
Confirm the Import by enabling the I Understand option.
Click on Begin Import.
Wait for the site to get imported.
Finally, you can view the imported demo site.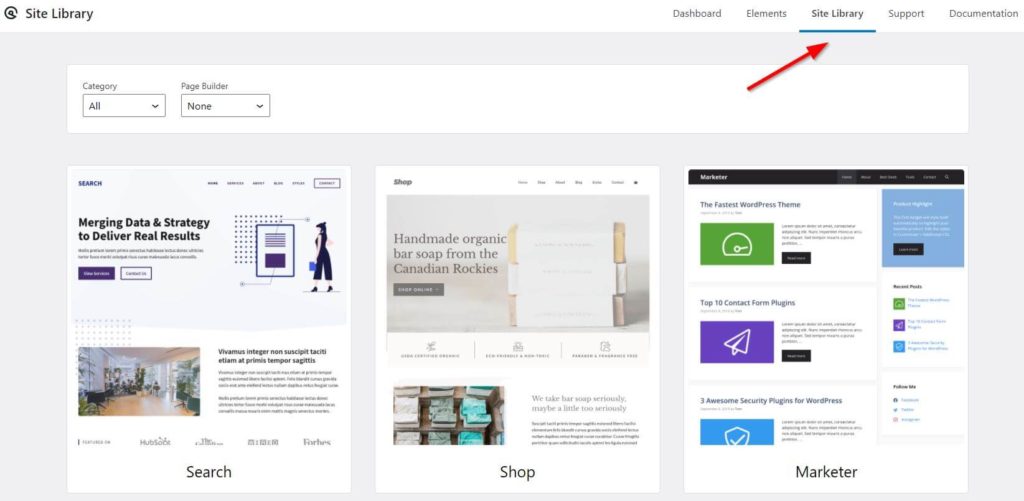 How to Remove Existing Imported Site in GeneratePress?

You can easily remove the existing imported site demo with one click.
Go to Appearance > GeneratePress.
You can see the site library menu located on the upper right side.
Click on Site Library.
Now, you can see the Existing Site Import Detected alert.
Click on Remove Imported Site.
Be sure to back up everything if needed before proceeding.
Proceed by clicking okay.
List of GeneratePress Templates to Choose for Affiliate website
Here is the best way to choose a site library for your affiliate website.
1. Marketer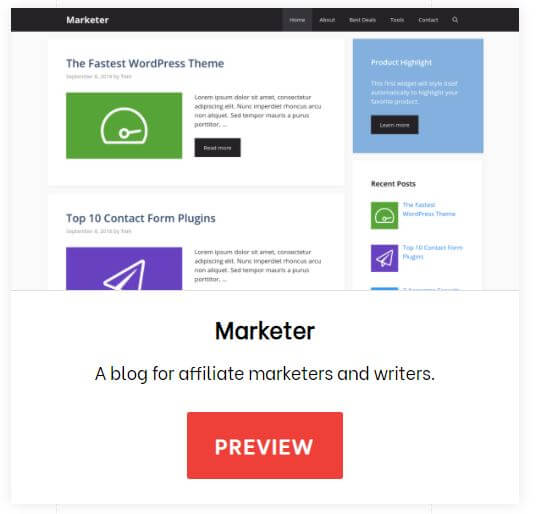 The marketer is best among all the prebuilt demo libraries by GeneratePress if you are thinking to build an affiliate site quickly. It is specially built for writers and affiliate marketers.
You can simply preview the demo site and import it. This blog (WPLOGOUT) is also inspired by the Marketer Site Library as you can see similarities between the two.
With this imported demo, you can quickly set up the site but you may require some customization.
2. Avery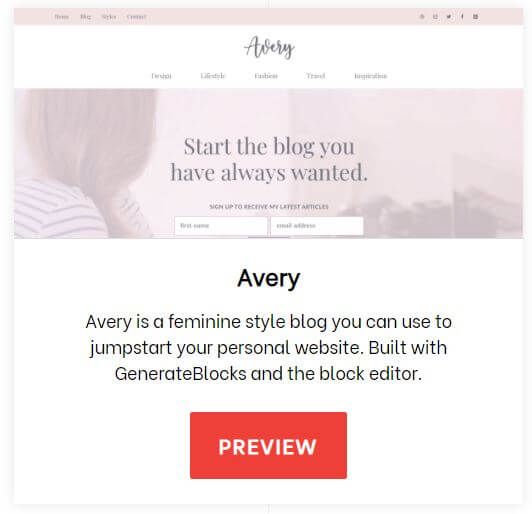 Avery is yet another personal blog style-themed library focused on a feminine-style blog built using GP & Generateblocks. Take a look into it and if you love it, import it and customized it accordingly.
3. Dispatch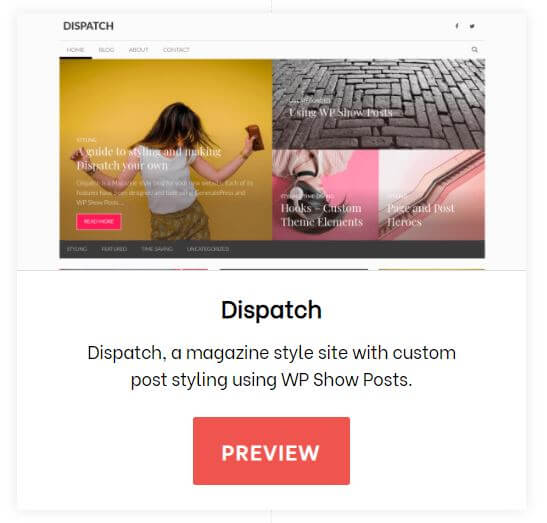 Dispatch is a magazine-style theme that comes with the WP Show Posts plugin but the WP Show Posts plugin is going to get merged with GenerateBlocks. You can start your affiliate website with a magazine-styled theme too.
4. Prime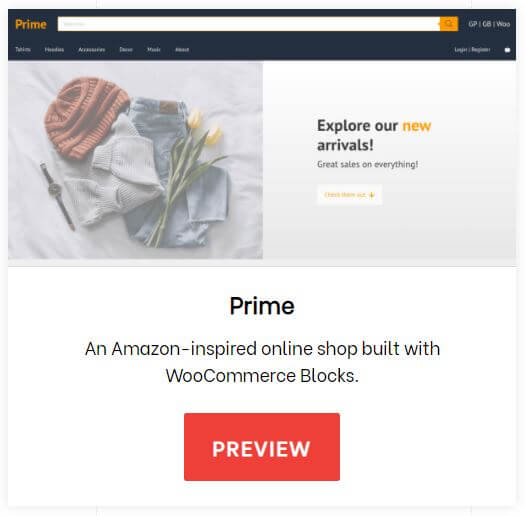 If you are searching for amazon inspired online shop then Prime is what you need to import. It comes up with woocommerce but you need to know about it before starting.
---
Other than these generatepress templates we can see lots of libraries with new styles being uploaded frequently.
If you have any affiliate site examples related to GeneratePress and Generateblocks then share us.
List of Tools & Plugins for Affiliate Marketing with GP Premium
We know that there are lots of tools and plugins for Affiliate marketing purposes and you may get confused while selecting. so here are some of my favorite ones.
Other than this, if you are into Amazon Affiliate then you can simply use plugins like Lasso, AAWP, etc.
Moreover, I have created some awesome tutorials with GeneratePress and Generateblocks which will help you in your affiliate journey.
Questions and Answers
Is GeneratePress the best theme for affiliate marketing?
Yes, GeneratePress is one of the best themes to create an affiliate site. I suggest you install one of the GeneratePress templates from the site library to get started quickly.
How to build an affiliate site quickly with GeneratePress?
First, get GeneratePress Premium Version, and activate the site-library module. Now, install and import the Marketer Site Template. Now, your site is ready, start writing posts. Note that, no template comes up with the perfect design so you have to customize yourself and self-configure your theme settings, and design.
Can I use GP Theme to create an amazon affiliate site?
Yes, you can easily create an amazon affiliate site using GeneratePress Theme and also use the GenerateBlocks plugin to create stylish designs to showcase the products within your posts/pages.
Bottom Line
I hope now you are clear about choosing the Best GeneratePress Templates for Affiliate Marketing.
so which template are you going to use for your website? My favorite is Marketer as you know already.
Which one is yours?
Let me know in the comment section.